Welcome to ANIT 2017
The 2017 International Seminar on Artificial Intelligence, Networking and Information Technology (ANIT 2017) will be held from December 2 to 3, 2017 in Bangkok, Thailand. ANIT is striving to provide the best platform for researchers and scholars worldwide to exchange their latest findings. ANIT 2017 will be the most comprehensive conference focused on the various aspects of Artificial Intelligence, Networking and Information Technology. It dedicates to creating a stage for academic and industry professionals exchanging the latest research results and sharing the advanced research methods.
Publication
All accepted papers of ANIT 2017 will be published in the journal of
"Advances in Intelligent Systems Research" (ISSN:1951-6851)
by Atlantis Press and will be
indexed by CNKI, Google Scholar
. The publisher will submit the papers to
CPCI-S (ISTP) and Ei for indexing
.
The excellent papers will be recommended to the SCI Journal.
ANIT 2017 has been listed in Atlantis Press publication list
, please visit:
http://www.atlantis-press.com/php/proceedings_ordering-2.php?series=AISR
(
Serial number: 150
)

Conference Files
About Bangkok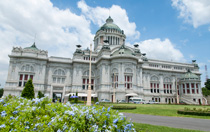 Bangkok (English pronunciation: /ˈbæŋkɒk/[5]) is the capital and most populous city of Thailand. It is known in Thai as Krung Thep Maha Nakhon (กรุงเทพมหานคร, pronounced [krūŋ tʰêːp mahǎː nákʰɔ̄ːn] ( listen)) or simply About this sound Krung Thep (help·info).
Bangkok traces its roots to a small trading post during the Ayutthaya Kingdom in the 15th century, which eventually grew in size and became the site of two capital cities: Thonburi in 1768 and Rattanakosin in 1782. Bangkok was at the heart of Siam's (as Thailand used to be known) modernization, during the later 19th century, as the country faced pressures from the West. The city was the centre of Thailand's political struggles, throughout the 20th century, as the country abolished absolute monarchy, adopted constitutional rule and underwent numerous coups and several uprisings. The city grew rapidly during the 1960s through the 1980s and now exerts a significant impact among Thailand's politics, economy, education, media and modern society.
More>>
Important Dates
Final Paper Submission Due:
November 15, 2017
Acceptance Notification: two weeks after submission
Conference: December 2-3, 2017
Sponsors